Mission Creek Festival: Samantha Irby
Reading + Conversation with Megan Stielstra
Event Description
Ticket Information:
Included with festival pass
Individual: $5 – $10
Box Office Info:
Tuesday, Wednesday, Friday
12:30pm - 5:30pm
Closed Monday & Thursday
(319) 688-2653
Whether Samantha Irby is talking about how her difficult childhood has led to a problem in making "adult" budgets; explaining why she should be the new Bachelorette (she's "35-ish, but could easily pass for 60-something"); detailing a disastrous pilgrimage-slash-romantic-vacation to Nashville to scatter her estranged father's ashes; sharing awkward sexual encounters; or dispensing advice on how to navigate friendships with former drinking buddies who are now suburban moms (hang in there for the Costco loot!); she's as deft at poking fun at the ghosts of her past self as she is at capturing powerful emotional truths.
ABOUT THE BOOK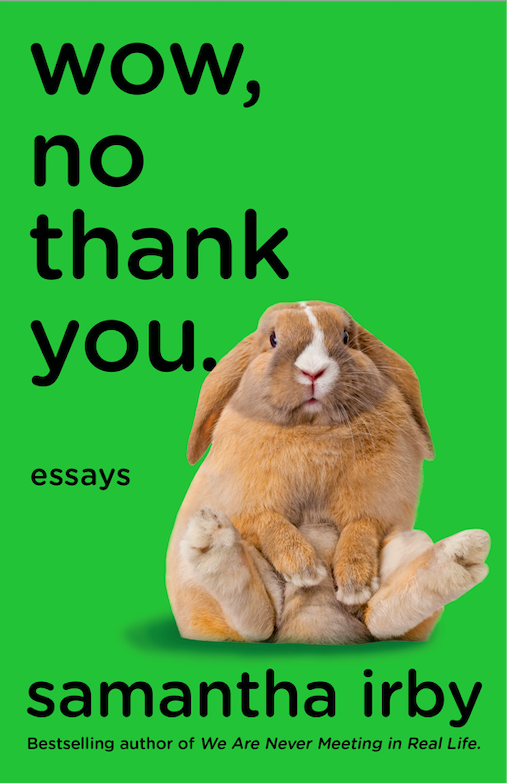 A new rip-roaring essay collection from the smart, edgy, hilarious, unabashedly raunchy, and bestselling Samantha Irby.
Irby is forty and increasingly uncomfortable in her own skin despite what Inspirational Instagram Infographics have promised her. She has left her job as a receptionist at a veterinary clinic, has published successful books and has been friendzoned by Hollywood, left Chicago, and moved into a house with a garden that requires repairs and know-how with her wife in a Blue town in the middle of a Red state where she now hosts book clubs and makes mason jar salads. This is the bourgeois life of a Hallmark Channel dream. She goes on bad dates with new friends, spends weeks in Los Angeles taking meetings with "tv executives slash amateur astrologers" while being a "cheese fry-eating slightly damp Midwest person," "with neck pain and no cartilage in [her] knees," who still hides past due bills under her pillow.
The essays in this collection draw on the raw, hilarious particulars of Irby's new life. Wow, No Thank You is Irby at her most unflinching, riotous, and relatable.
ABOUT MEGAN STIELSTRA
Megan Stielstra is the author of three collections, mostly recently The Wrong Way to Save Your Life, winner of the 2017 Nonfiction Book of the Year from the Chicago Review of Books. Her work appears in the Best American Essays, New York Times, The Believer, Longreads, Tin House, Catapult, and elsewhere. A longtime company member with Chicago's 2nd Story storytelling collective, she has told stories for National Public Radio, Radio National Australia, the Museum of Contemporary Art, and regularly with The Paper Machete live news magazine at The Green Mill.
ABOUT THE BOOK

In this poignant and inciting collection of literary essays, Megan Stielstra tells stories to ward off fears both personal and universal as she grapples toward a better way to live. In her titular piece "The Wrong Way To Save Your Life," she answers the question of what has value in our lives—a question no longer rhetorical when the apartment above her family's goes up in flames. "Here is My Heart" sheds light on Megan's close relationship with her father, whose continued insistence on climbing mountains despite a series of heart attacks leads the author to dissect deer hearts in a poetic attempt to interrogate her own feelings about mortality.
Whether she's imagining the implications of open-carry laws on college campuses, recounting the story of going underwater on the mortgage of her first home, or revealing the unexpected pains and joys of marriage and motherhood, Stielstra's work informs, impels, enlightens, and embraces us all. The result is something beautiful—this story, her courage, and, potentially, our own.
Intellectually fierce and viscerally intimate, Megan Stielstra's voice is witty, wise, warm, and above all, achingly human.